Martin Wannam - ¿Es esto la libertad?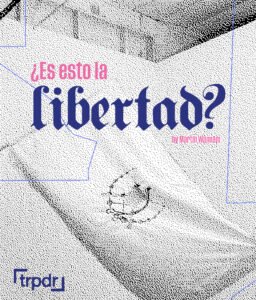 Martin Wannam - ¿Es esto la libertad?
On view by appointment
July 3rd-August 6th, 2021
at Trapdoor Projects
1120 Tijeras Ave NW
Albuquerque, NM 87102
Opening Reception
July 2nd, 2021
6:00p-9:00p
Open Hours:
Friday, July 9, 6-8
Friday, July 23, 6-8
Friday, Aug 6, 6-8
Masks required
In Guatemala, the enduring ongoing historical violence of colonialism and empire ranges from institutional to cultural and destroys the existence of queerness. Utilizing a queer brown lens, ¿Es esto la libertad? focuses on the intersection of propaganda, memorial and appropriation as a means to express agency over the constant mutilation of the Guatemalan queer community.
By manipulating common vehicles for propaganda, Martin Wannam's installation on Trapdoor Projects' exterior invites the viewer to consider the narrative of history on the whole. "Libertad sin importar género, color o sexualidad" or in English "Freedom regardless of gender, color or sexuality", centers the idea of utopia as it is situated within history,  unraveling these ideas to create new meaning. The reimagined objects and gestures re-mold the contemporary, bringing forth reckoning and reconciliation, challenging the status quo with fierce generosity.
______________________________________________________________
Martín Wannam (b. 1992, Guatemala) is a visual artist and educator whose work looks critically at the historical, social and political climate of Central America, specifically examining its impact on the queer individual. They use photography, sculpture, and performance as a tool of iconoclasm for a constant evaluation of systematic structures such as religion, folklore, and Qestern beauty standards through their queer lens. Martin received their MFA in Photography from the University of New Mexico in Spring 2020, a Diploma in Contemporary photography from La Fototeca (GT) in 2016, and their BA in Graphic Design from the Universidad Rafael Landivar (GT) in 2015. Wannam has exhibited nationally and internationally in Guatemala, The United States, Rotterdam, Netherlands and Korea. Currently, they reside in Albuquerque, NM working with Szu-Han Ho, Bernadine Hernandez, and Hazel Batrezchavez in the Fronteristxs Collective to end migrant detention and abolish the carceral state.
Please contact Trapdoor Projects at info@trapdoorprojects.com for more information or to schedule an appointment.